2006 - What's in store?
We will continue to use a Magna Charged LS1, but with a few tweaks to get more power. The rest is still being completed, check back in a month to see how it comes out - we have some surprises in store for 2006.
2005 - What we had from the fall of 2004 until the end of 2005:
An LS1 (5.7L or 346 c.i.) out of an 1998 Camaro. Motor was completely stock with a supercharger from Magna Charger. With boost set at a conservative 5psi we had an awesome torque curve and plenty of power to get the job done. Throttle response was great, it sounded mean when you get on it - and it looked cool.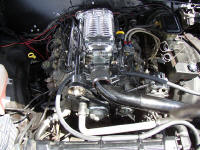 We used the same automatic 3speed that we started out with, a TH350. We are one of the very few (or only) people to use an automatic transmission. IT worked great and we didn't break driveline parts. It could be shifted manually and held in gear with the use of a ratchet shifter. We hooked up an hydraulic e-brake, and used stock brakes up front. The suspension was completely unchanged from 2004 (same parts). We used 245/40/17 tires up front and in the rear (on some tracks we used 255/40/17's). We added a mini-spool to replace the slipping posi. And it got new paint and stickers for 2005.
2004 - the setup when we got our start:
Power - It has a low-compression 350 from an 87's Camaro Z28, stock internals (cast rods, crank, and pistons). It has Trick Flow heads, hydraulic roller cam, headers, carbed (Edlebrock 750 cfm) -about 320 rear wheel hp.
It has a three speed automatic (cheap and bullet proof th350) with a 2800 stall. The rear end is a POSI 3.42 out of a Grand National. A 100 shot of Nitrous can be used for drag racing. Should do mid to upper 12's on motor and low 12's to upper 11's on spray.

Handling - the El Camino has a LONG wheelbase -117 inches. It weighs about 3200lbs without me in it. I used Hotchkiss springs, Bilstein shocks, poly bushings everywhere, homemade boxed control arms, sway bars and steering box off of a Monte Carlo SS. The weight distribution is about 55 front 45 rear. While classified as a truck, it is based off of a Monte Carlo (car). We put some seats out of a firebird in it (stock bench seat sucked).

Bumper was removed for weight after i got rear-ended
I like El Camino's and already had many of the parts i needed. I have around $5,000 total in it (that and have done all of the work myself (and some friend helped some)

Work Done Recently:
-Built roll bar to meet safety requirements
-Rebuilt posi-traction rear end
-Changed wheel studs to longer ones for adapting rims
-Changed transfluid and install trans cooler
-Changed body bushings to poly ones (big difference)
-Lots of misc. stuff
Work to Do:
-Install Tachometer that reads correctly (stock one is way off)
-roll bar camera mount :)
-Finish misc. stuff and make it look purty.