2005
It turned out to be a great season. Derrick got off to a rough start when a sponsor helping him build his car didn't live up to expectations. After not having his car completed by the third event Derrick ended up getting working with Jon Ward to help finish and drive Mr. Ward's Knight Rider firebird. They debuted the car the 4th Formula Drift event, The car's setup was refined and at the 5th event he made it to main day, qualifying in the top 32. At the 6th event he made the top 16 cut at the highly contested season finale at Irwindale Speedway, earning him a season points standing and an automatic Formula Drift liscense for the 2006 season.
Mike Peters came on strong in the Bubba Drift El Camino, making it to main day on his first outing, and making it to the top 16 at the rest of the events. Mike would end up tying for 8th place in the Formula Drift standings.
Formula Drift - Round 6, Irwindale, CA
Mike made it to the top 8, Derrick made it to the top 16
Import & Truck Bash, Toyo Drift Competition, Indianapolis, IN
Mike finished 2nd place.
Formula Drift - Round 5 Chicago, IL
Mike made it to the top 16, Derrick made it to main day.
Formula Drift - Round 4 Sonoma, CA
Our first stop on our trip was to MagnaCharger's headquarters in southern California. They strapped our elco to the dyno to tune it. I have been using an aftermarket pulley setup, not the factory setup which MagnaCharger recommends, because it came with the motor i had. The aftermarket pulley setup was crap and was allowing the supercharger belt to slip on the pulley. The guys at MagnaCharger hooked us up with a new tensioner, and then tuned the elco. At 5psi we made 420 RWHP and 420 ftlbs torque (on a stock LS1)! Mike was looking forward to the new found power. Cool guys, awesome shop, nice project cars, and we got some free t-shirts. Dyno Vid & Chart: Click HERE

Our next stop was at Flowmaster's headquarters in Northern California, about 30 min from the track. We got to take a tour of the factory and see their dyno room where they test their exhaust systems. Saw some awesome project cars there as well.
And on to the track - a beautiful track and awesome weather. We unloaded for seeded practice, with high hopes. On mike's first run out he nails the course and we feel like we are in for a great weekend. Next run out, Snap Crackle & POP. The power steering pump pulley grenaded, taking out the pump and denting the hood. So much for practice. Some mad thrashing to find parts places netted some new parts, but not enough. Race day morning we were up early and hitting parts stores when they opened, buying belts, pulleys, and pumps. We were going to have to make something work (because of the aftermarket pulley setup).
After some thrashing in the pits we had it put together. Mike's first practice run, Snap Crackle POP again. The aftermarket pulley setup doesn't use as many bolts and has a bad design - the mounting threads were pulled out of the block. We had about 1.5 hours until qualifying started. I ran to town to try to find some 6inch bolts in some large threads, while Derrick, ALi, Mike, Aaron and others helped in the pits. We re-tapped the block oversized and had to modify some other parts. Some very busy moments while everything was put together, and we barely made it out to grid. So mike had to qualify in the top 16 with only one lap of practice, and would it hold?
Mike laid down some awesome runs and qualified in the top 16. In the tandem elimination round he went up against Chris Forsberg. On the first run mike followed Chris, sticking to his back bumper. Chris ended up spinning, giving mike the advantage. Next run out Mike is leading. Chris messes up the entry, going over the curb. Mike rounds the first clipping point, but loses power steering when the belt is thrown off, and he goes off course. We had a win slip form our grasp, but we fixed it and they went to a one-more-time. Mike follows Chris, staying close and getting the advantage. Mike leads into the first turn and the elco dies and goes off course. Chris moves on, mike is less than happy.
We forgot to top off the gas tank, and with the stock unbaffled tank and the long first turn we fuel starved :( And mike now calls me 'Captain Refill'
We got points and stayed in the top 10 Photos & Videos: HERE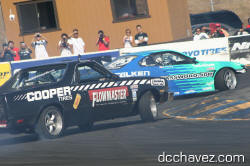 Derrick meanwhile has helped Jon Ward, creator of the Knight Rider car used in the TV series, finalize his drift car. They barely got it finished, and Derrick drove it at Sonoma with no seat time in it. He looked pretty good, and with some tweaks and practice we had some high hopes.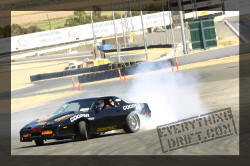 Formula Drift Demo - Cleveland Grand Prix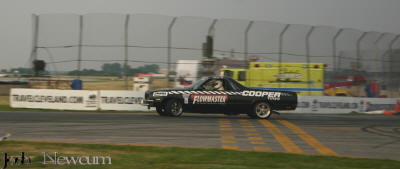 This was an nice treat, we were invited by Formula Drift to perform drifting demos at the Cleveland Grand Prix. This was a 3 day event with the main highlight being the CHAMP car race on Sunday. HUGE crowds, 100k+ , an amazing experience. We performed on all three days, including on Sunday between the CHAMP car and Speed GT events. The race is held on an airports runways, leaving us with the biggest course we have ever tried to drift. Mike was going into one of the turns at between 100~120 mph! The new e-brake setup worked great, allowing for the high entry speeds. 15 minutes of high-load abuse left all of the tires and cooling systems begging for mercy. From brand new tires to cords in 15 minutes - and that was with us taking it easy for parts of the track!
We got to hang out with fellow drifters Ken Gushi, Daijiro Yoshihora, Casper Canul, Ernie Fixmer, and Conrad Gruenwald. We drove around Cleveland and had a great stress free time. The fans loved the drifters, we got applause as we rolled back to the pits.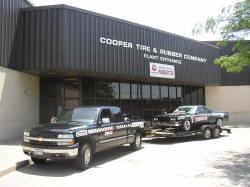 Since Cooper Tires is located in Ohio, we stopped by their company headquarters on the way to the event. We made a tour of the plant and got to say hi to some of our biggest supporters - Cooper employees themselves. It almost makes us feel guilty about what we do to their tires ;)
Formula Drift - Round 3 Houston, TX
Our home town event, lots of friends and family showed up to watch. You can't talk about the event without talking about the HEAT and Humidity. Lots of water and lots of sweating, but a lot of fans showed up to pack the stands and watch.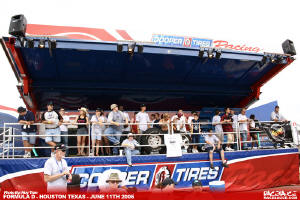 Cooper Tires debuted their new pit rig, which is awesome. They won a Meguiars award for best pit, and we felt like we made it big time being pitted with it. A place for us to store our tools, watch the event in the shade, and play video games that they brought. A sound system with XM radio for us to listen to as well. Add in some attractive models and it made for a very nice setup.
Derrick made his 2005 season debut in a friends Skyline. Derrick had been unable to finish his 240z project, so at the last minute he had to find a car to drive. They worked like crazy to finish the Skyline (it was apart after getting a motor rebuild). They got it built, cage installed, and tuned. The day before the Houston event was their first time out with it, and Derrick was able to get some seat time in it. During non-seeded practice Derrick was trying hard to get the course down, but a too fast entry on a slick and bumpy course led to disaster. Derrick was o.k. The Skyline is currently undergoing repair and is expected to make a full recovery by the end of the year.
The wall claimed several cars that weekend, and it was on my mind (good thing i'm not the driver). Mike has no fear of walls, as he proceeded to throw the El Camino into the first turn. He kept asking me how close he was to the wall, I'd say too close - and he kept trying to get closer (the judges want a close entry)
Mike did great in qualifying, he qualified 13th. During the Demo run he went nuts on the burnouts like he likes to do. There was so much smoke that when he got out to throw shirts to the crowd he was disoriented and ran the wrong way. He saw a cone and heard the crowd behind him so he turn and ran back the other way. During tandem he went up against Tyler McQuaire. It was a good set of runs, with each making some small mistakes - so they ran one more time. Tyler ended up taking us out, but we made him work for it :)
Photos and Videos in: Album or watch on TV (www.G4tv.com)
Formula Drift - Round 2 Atlanta, GA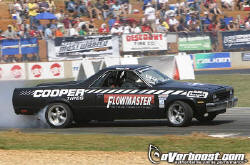 Headed into Atlanta we were relaxed, after what we went through to make it to the New Jersey event this was fun. We had the car running good, and there were only a few easy things that we wanted to do to the car. Since placing 17th at the previous event we were a 'seeded' team and we didn't have the pressure to try to pre-qualify.
From watching videos of the Atlanta event from last year, we felt that we would need an e-brake for the first turn (we don't have a clutch to help break the rear tires loose). We hooked one up before we left. We got to the track early, setup, got a hotel, ate a nice dinner, and then went shopping (pit radios and car wash supplies which we forgot).
Washed the car, did minor things, talked to fans, and had FUN. Watched practice and qualifying for non-seeded teams. We went to practice that evening, mike did great. E-brake wouldn't work, couldn't reach very well when strapped in -oops. Mike scared me (and the Cooper rep) by coming close to the wall a couple of times.
Main day. Re-did some wiring, washed the elco and hung out with fans in the pits. Mike got 2 practice laps in then went on to qualifying. Mike made some great qualifying runs, lots of angle and good lines. He was having fun. Crowd was loving us. We were really wanting to make the top 16. In the driver's meeting we found out mike got 10th place - he was a happy boy, and now he gets to make some tandem runs. During his exhibition his happiness shows as he smokes the tires around the track. Tires are holding up good so we leave them on as we go to tandem.
Top 16 - #10 Mike Peters vs #7 Casper Canul.
Mike is a little bummed, Casper finished in 3rd place at the last event and mike knows how good he is. I tell him to just run a clean run like in qualifying (like he listens to me anyway). G4 hooks up the TV cameras to the cars. Mike leads first run, Casper is right on him, but Casper spins! Mike slows down for the red flag until they wave him on. He just needs to complete this run clean, which he does. Next run he follows Casper, Casper gets the jump on him going down the straight into the first turn, and they stay about the same distance apart for the lap. Because of the spin Mike advances. Of course he is shocked and very happy. The cameras are on him for interviews (I'm hopeing he thanks our sponsors and doesn't say anything bad).
Top 8 - #10 Mike Peters vs #2 Rhys Millen
Mike is happy, then I tell him he is up against Rhys. Oh well, it was fun while it lasted - he just hopes to make Rhys work for it. (Rhys -Pontiac GTO- won the first event and is one of our favorite drivers). Rhys' is top notch, they have given us parts in the pits at a couple different events to help us out.
First run mike leads, Rhys has to adjust the oddities of following behind the elco. He stays close but loses angle a few times. Next run Rhys leads, and lead he does. He opens up a big gap going into the first turn. They both drift the course, but they stay about the same distance apart (mike a ways back).
Very good runs - and a ONE MORE TIME! These runs are about like the first, but with Rhys being dead on for his runs. Rhys moves on.
We had a blast, great weather, great racetrack, and great FANS!
Watch for us on June 12th on G4 TV (www.G4tv.com)
Now...what can we do better to run with more of the big boys...on our budget...
Photos and Videos in: Album
Drift Show Off - Houston, TX
The Drift Show Off series is where we got our start in professional drifting. Last year Derrick won 1st place, so Mike had some big shoes to fill. Mike ended up finishing 3rd, but it was a great day and a lot of fun. Car ran great, and the tires took a lot of abuse but kept on living (mike discovered rolling burnouts and was mean to them, check out the videos to see what I mean). We owe a lot of our success to our local fans and friends. Thanks Cooper for keeping us in tires and for Flowmaster for making this season possible.
Photos and Videos in: Album
Formula Drift - Round 1 Wall, New Jersey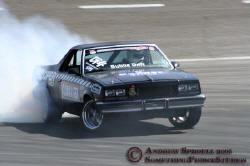 Quick and dirty version - we Qualified 4th in the non-seeded drivers round (out of 36). On the main day we qualified 17th (out of 32). We missed the tandem rounds by one spot, but we will be a seeded for the Atlanta event.
Long Version - We worked like crazy to get everything ready for this event. Some last minute 'improvements' ended up not working and taking a lot of time. Spent a lot of time trying to trace down an intermittent misfiring problem. Redid the wiring in the car. Made a new exhaust system using Flowmaster's exhaust kit and their Super 40 mufflers. Sounds much better, looks much better, and now we don't hit every bump on the ground like we did with our last exhaust system.
On the day we need to leave, I'm finishing up a few things at work (I've got a full time job) and on my way home when Mike calls. He asks if I have my truck - not good. He had decided to go drifting on the back roads be my house, and he found a ditch in his 240. See kids, street drifting is bad.

We finish up lots of small things that take longer than they should, and hit the road at 3am ( I had planned on us leaving at noon). We drive straight through to New Jersey. We get there, unload and I finish up some wiring. Mike goes off to practice with the other non-seeded drivers. He's looking good, when BOOM! Massive backfiring. The misfiring problem is still there. I tear into the wiring and find a corroded connection in the crank position sensor plug. Rhys Millen's guys give us some old wiring with connectors and I splice them in.
Mike goes to next round of practice - he looks good and the car is running great! He makes some great qualifying runs, and places 4th out of the close to 40 teams vying for 12 spots. We head to our hotel room happy and to get some sleep. When I went to bed I had gotten 3hrs sleep in the last 65 hours, I didn't know I could do that.
Main day we make it back, no small feat given that New Jersey has some very odd roads. And all gas stations are full service, it's against the law to pump your own gas.
The weather is cold, but the fans are pumped. Mike makes his qualifying runs, where he places 17th. He really wanted to make it into the top 16, but the good news is that by being in the top 20 we will be a seeded driver for the Atlanta event.
On the way back we had fun and drove around New Jersey (got lost many times). We stopped by a fans house in New Jersey, where we chatted and looked at their el camino. They gave us some parts they were throwing away (hey, they were good control arms), some snack foods, and directions. We got lost anyways and had to call them a few more times :)
We had a great time and saw part of the country we hadn't seen before. Andrew went along as our Pit crew, Photographer, and Partner in crime. We had a great time.
Photos and Videos in: Album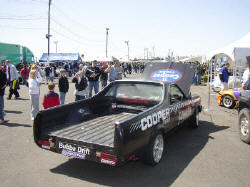 In the Pits at WallSpeedway
March 20th Houston, TX
Had fun, Killed tires for the crowd!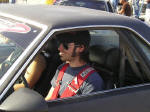 *Great photos guys, give me you names and I'll watermark them into your photos.
March 25th Belle Rose, LA
A good test and tune on a road course, in the building process for Formula D!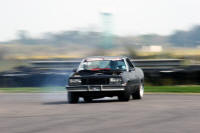 *Great photos guys, give me you names and I'll watermark them into your photos.
2005 Schedule

April 16
New Jersey
May 7
Atlanta, GA
June 11
Houston, TX
July 9
Sonoma, CA
August 6
Chicago, IL
August 27
Los Angeles, CA