Bubba Drift in the Dec. 2004 HOT ROD magazine
Thanks Hot Rod!
-----------------------------------------------------------------------------------------------------
Daily Drifter - San Antonio, TX - Dirty Drift!
It never really rained, misted some - but it was so damp out that the track never dried from the rain before the event. It was a blast, and the temperature was nice. We found out that the tires worked very well in the rain (and lasted forever), the front tires gripped surprisingly well on the slick track. Big turnout, cars running all day long. The tire changer who came to the event had a slow day, tires wouldn't die.
The under powered cars had a good time with the rain slickened track. The higher powered cars found that throttle response was an important factor. The Magna Charger on the El Camino allowed for very smooth and controllable power output, which was very much needed. Some turbo cars at the event had a tougher time, especially if their power came on more suddenly.
Derrick & Mike had the course nailed, drifting the entire course in back to back runs. Derrick drifted the El Camino, my IROC camaro, Bernard's turboed IS300, Ali's 350z, and several other people's cars. Mike drifted his 240sx (stock suspension, bought it the day before), my IROC Camaro, and many others as well. People wanted to see how their car would do with one of them behind the wheel. Thomas, Ali and Wes also looked very good, getting clean drifts of the whole course down.
A lot of fun, happy as a kid jumping in puddles all day :)
More photos & videos in Album (see Grind & Videos folder)
Our sponsors getting hard to see - and this was early in the day,
by afternoon the car was really dirty.
RS*R Drift Festival - Chicago, IL
Great weather and a well run event. Lots of nice fans. During our 2nd run in practice we broke an alternator. Quick run to the parts store and we were back in business. Derrick looked great in practice and we had high hopes for the competition. Right before the competition was set to begin, we broke another alternator. No problems during testing at home, but go a long way off and something like this happens.
There is another heavier duty alternator in place.
Photos & Vids HERE
NOPI Nationals - Atlanta, GA
Well we drove 1700 miles round trip, but due to problems at the event beyond our control, we were not able to run. We showed up to be told the event was cancelled, and were not told that the event was allowed to restart later the next day. We were disappointed and upset, but ohh well - there's always the next event.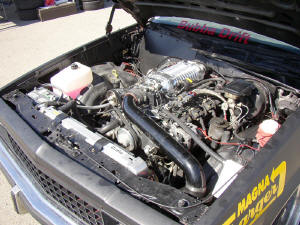 Well, we now have a supercharged LS1 under the hood.
Formula D Irwindale, CA August 29th, 2004 Results -
We were not able to make the practice times on Thursday due to a sensor dying on us. So Sunday morning we got all set up, made a last second thrash to fix a transmission leak that had appeared, and got ready for practice. New motor and new rear brakes. The power from the Magna Charged LS1 (~440 RWHP) was very helpful, and it took Derrick a little bit to get used to it. The new rear discs were locking up, even with an adjustable proportioning valve. The motor was running warmer than we would have liked.
We had somewhat expected that there may be a problem with the brake balance, so we had picked up some cheap not-so-grippy brake pads. When Derrick would use the brakes he would spin. After 3 or 4 runs we were about to change the brake pads, but we decided to make one last run. Sure enough- the rear brakes locked up - and put Derrick into the wall and ending our event. I had told Derrick that if he was going to wreck, it had to be in front of the crowd and after HotRod magazine got enough photos - but he didn't listen :)
At least we got it on video - go here to see it.