Team Name: Bubba Drift

Our Next Events:

Daily Drifter
-August 1st, Houston, TX
Car Nickname: Hell Camino
Formula D
-August 29th, Irwindale, CA
| | |
| --- | --- |
| | Well, we now have a supercharged LS1 under the hood and we are off to the Formula D event in southern California this weekend. Many updates and more next week when we get back! |
Formula D Results + Sponsorship Info
Thank You Sponsors for supporting us! There were a few sponsors that I did not receive stickers from in time for the event. I reached several of you before the event, for those that I did not contact - I am sorry and will refund your money. Please contact me. -James

We are still looking for a sponsor to help with expenses - we have many sponsorship opportunities.

Formula D Sonoma, CA July 11th, 2004 Results -

We had fun, but we had some problems (tires & tuning) and did not make the top 16. We put in a good showing and the crowd seemed to like us.

We started the trip by washing the El Camino and applying stickers (stickercharged it). Loaded it on a Derrick's trailer and towed it with my dad's truck. 2000 miles later we were in Elk Grove, CA - where we stayed for free at my mom's house :)

Due to time concerns the tires and wheels were shipped straight to the track. Except the tires didn't make it - dohh! Luckily Justin Fort - our sponsor guy - took care of things and got us some new tires of a different brand, then got them mounted for us.
Saturday's practice session- The course was very tough, the first turn was giving everybody fits, with even many of the pros spinning. Derrick had the rest of the course nailed, with the new tires producing a lot of sideways action and smoke. But the first turn was giving him problems. We don't have a clutch, so turns are initiated by feint and throttle. The front tires could not grip enough to throw the El Camino sideways, and had too soft of a sidewall. We were running too small of front tires and too large rear tires. The front tires were getting toasted. At the end of the first practice session we decided to junk the new front tires (along with the cool shiny rims) and go with the bigger fronts we have used before.
Sunday's practice session- Derrick went out and was having a better time getting it to turn, but was still having problems. He was getting too much rear traction (what we thought at the time) so we switched to some old rear tires that had less grip. He had time to get in two more runs with the different tires. Into the first turn, and power was cutting out - the carb was running out of gas (the 21 gallon, pancake like, unbaffeled stock tank was not picking up fuel). It is a problem we have had before, and we try to keep the tank 3/4 full, but we slipped up and didn't top it off after practice the previous day.
Time for qualifying- We were having problems getting the tires to break loose, and could not get the first turn down. I later realized that i had caused a lot of problems by misjudging the temperature and the carb tuning. I jetted the carbs for the cooler morning weather (and possibly over rich at that) and did not make changes as the day warmed up 20 degrees. This explains why throttle response and power were way down, and why we had so much trouble getting the car to rotate.
So for next time: Bigger better tires up front ( Good Years), a fuel cell (better gas tank), and a correctly tuned carb (Derrick is pushing to go fuel injected).
-James
Formula D Photos and videos are here - MEDIA
Derrick Rogers' Formula D write up - HERE
Formula D Houston June 12th, 2004 Results -
Derrick qualified 7th out of 37, making it in the top 16 qualifiers. Derrick was pitted against Chris Forsberg in the Motorex 350z for the tandem runs. Derrick has never done any tandem runs before, but he did pretty good. If he had not run wide on the end of his leading run he very well may have advanced to the next round. As it was, the judges let them run again. While he did very good on following, a spin on the end of his leading run led to Forsberg advancing (Chris Forsberg - who finished 2nd at the Atlanta event - went on to finish 3rd in this event). Our goal was to make it past qualifying, and we succeeded beyond our expectations by qualifying much better than we had hoped.
Our low budget, non-sponsored entry made it into the big leagues. We drove it to the event with tools and tires loaded in the back - and the we drove it home.
*It appears that we are tied for 12th (with Rhys Millen) in Formula D points!
Derrick Rogers' Formula D write up - HERE
Sponsorship Details -
Why should someone sponsor us? We have been developing a track record that shows that we are competitive and can put on a good show - 1st place at a Falken Drift ShowOff, 7th place qualifier in Houston's Formula D. Our drifting effort is cheap and we have no overhead. We do not need a salary and we do all of our own work. We have a low budget car, that is low maintenance and very durable - it has not broke once in a year of 6 drift events, about 7 autocrosses, 15+ evenings of drag racing and having been driven to and from all events. We have flexible schedules and a desire to go to as many events as we can. We have been doing this for fun and would like to be able to go to bigger events farther from home. We will probably give it a paint job very soon to make it more presentable.
So why do we need sponsorship? Expenses
We are prepared to take it too whichever level a sponsor is looking for. We are proud of our accomplishments to date with what little equipment and preparation we have, and we recognize a great opportunity to become far more competitive than we currently are with additional sponsorship support.
Why an El Camino? Why not - it's worked great so far, it's very unique and recognizable -- when people mention the El Camino, they don't need to say "which one?" We have always enjoyed overwhelming support from everyone who sees or hears of it. Parts are cheap (I've got a couple of parts cars in my field). There is also lots of surface area for putting sponsor info :)
You would also get a website and videographer as well - we are all over various internet forums :)
Special Thanks To:
Those at SlipStream, the other Formula D drivers and crew members (very friendly and nice), Alex at DailyDrifter.com, Keith Lempa & Lisa Nuckels, Mike Peters (mikespeed), other friends that supported us and helped out, and all of our forum well wishers!
MISC STUFF
After reading Chris Rado's column about drifting in Sport Compact Car - would like to challenge his 'pretty' drift truck to a drift competition. I like the fact that drifting can be done on a limited budget - where skill is more important than the vehicle driven. All of our work has been done by Derrick and I, on a very limited budget.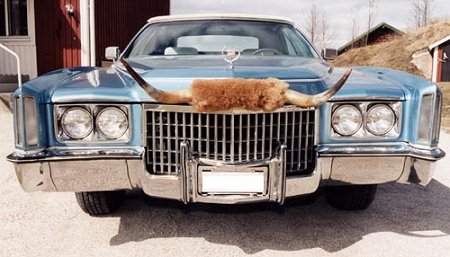 All Work Done safely - with the correct piece of wood holding the car up (here's Derrick welding on the gas tank, wishing he had a El Camino)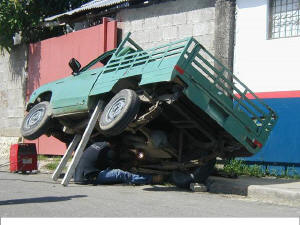 *this is a joke, we have more sense then this.
Everyone loves the El Camino :)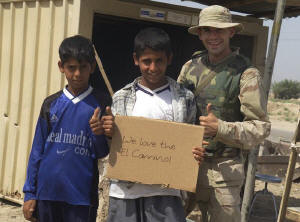 click for pages:
MEDIA - Photos and Videos of the El Camino (Drifting, Auto-x, Drag and Being worked on)
MODS - MODS Done to my El Camino so far
CONTACT - Contact Me
LINKS - Automotive Links (drifting, auto-xing, drag racing)
HOME - for other stuff / cars of mine