Team: Bubba Drift
Videos at the bottom of the page
Photos - Click for larger versions
***A NEW better photo album is being worked on and will be ready shortly with more photos and faster load times***
Photos taken by www.corndesigns.com at a DailyDrifter Grind event:
PHOTOS in SERIES:
Formula D Sonoma, CA Drift Event July 11th, 2004
The 'Texas Girl' is my sister. The bottom row has photos of us in the pits, us, and somewhere in west Texas on the way home
Formula D Houston, TX Drift Event June 12th, 2004
Event Coverage: www.urbanracer.com www.overboost.com www.houstonpress.com
Elimination Bracket & Houston Chronicle Drifting Article (with photo of El Camino)
Derrick posing by the El Camino, pointing to his Tandem competition opponent, and showing his wall marks.
Thank You Photographers for taking the above photos!
Perfect Tire Hauler - And it kills a lot of tires. We're movin' on up:
| | | |
| --- | --- | --- |
| | | |
| Rounding up second-hand used tires to drift on. | | GoodYear tire sponsorship, now full of new sticky tires :) |
I actually get dirty as well - but I'm always the one taking photos.
Drift Showoff Event Apr 10, 2004 Thanks to those who took these photos.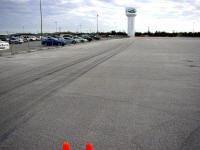 These tiremarks were from the
Caballero at a practice event.
click for other pages:
MAIN - Main El Camino Page
DRIFTING - FORMULA D Event info and plan (sponsorship?)
MODS - MODS Done to my El Camino so far
CONTACT - Contact Me
LINKS - Automotive Links (drifting, auto-xing, drag racing)
Autocross Photos
(*Derrick is driving when the cones were being hit)
I need to thank Corn for the photos - go to www.corndesigns.com for more auto-x photos.
Drag Race Photos
Engine Bay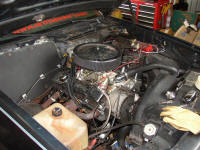 Autocross photos - Before suspension work First practice auto-x during the summer of 03'. Basically stock and in bad shape at that. Broken rear spring, bad shocks, bad suspension bushings, under powered, granny steering box ratio, 205/75/r14 tires, bench seat, etc.
VIDEOS:*do the right-click save-as internet friendly method
Furmula D Irwindale: video of the El Camino in pits, practice and CRASH into wall (brake proportioning problem - oops).
Formula D Irwindale Video (full video with crash)-11MB, MPEG1 encoded, approx 2 mins long.
Crash Only -2.7MB, MPEG1 encoded, approx 30sec. long
Formula D Houston: video of the El Camino in competition Hosted by:

El Camino qualifying, freestyle, and tandem runs *NOW with bonus Derrick footage*
(Chris Forsberg -sorry for misspelling your name at the end, I'll fix it soon)
Formula D Houston Video -37MB, MPEG1 encoded, approx 7 mins long.
From Grind - Drift Practice Dec 21, 2003
El Camino In Truck Video -9MB In-truck Caballero action! Yeeeeehaw!!!!!
Domestics video -8MB American cars drifting (and spinning) "I think I'm turning Japanese!"

Enjoy, spread throughout the internet, comment about my sucky choice of 90's techno, etc.

These Vids are all currently down - as in links not gonna work
Drift Showoff, Apr 10, 2004
Highlights Video -39.6MB, MPEG1 encoded, approx 8 mins long.
Top 4 Finalists Video and final elimination runs - 36MB, MPEG1 encoded, approx 5 mins long.
From Grind - Drift Practice Dec 21, 2003
Vid #3 (17MB) -- Highlights vid 1 (at least those caught on camera)
Vid #4 (25MB) -- Highlights vid 2
Autocross
(in Divx format - go to www.divx.com for free codec)
elcamino3.avi EL Camino (Caballero) in Action (without sound)